March Madness is here, and oh boy am I hype. Literally, my excitement levels are somewhere between finding cash in your jeans which is still in mint condition after they've been washed and winning the lottery. If anything, it's closer to winning the lottery.
March is quite possibly my favourite month of the year. I get to eat, sleep, breathe and live basketball, plus it counts as work. How freaking cool is that!
This piece is more for the uninitiated and is a whistle-stop tour of the NCAA Division 1 College Basketball tournament, also known as March Madness. You may be asking, why the moniker, read on to find out.
What is March Madness?
Besides being my happy place, when I comfort rock myself to sleep in fear of Kyrie Irving's impending free agency, March Madness is a basketball tournament.
More specifically the craziest basketball tournament ever conceived. Featuring 68 teams, whittling their way down from tons of games, to the "Sweet Sixteen", then the "Elite Eight", then the "Final Four". Before ultimately arriving at the National Championship game. The whole thing lasts from the middle of March until the start of April.
That's a Whole Lotta Teams.
 Yep. It's also a whole lotta fun. Such a big stage allows teams that weren't getting the national spotlight as much as they maybe should, to have their moment in the sun.
Schools like Florida Gulf Coast who got to show off their eclectic dunking ability. Most fans remember Loyola-Chicago, who captured our hearts with Sister Jean. Their team chaplain, who happens to be a basketball-mad nun.
Everyone loves a Cinderella story, of a low seeded team making a run deep into the tournament. Often upsetting more highly touted teams in the process
Who's in and who's out.
32 teams get in automatically from winning their respective conferences, while a selection committee selects the remaining 46. One day, they may even deem my beloved Notre Dame worthy of an invite. One day.
The teams are then ranked also known as seeding. This is based on a variety of factors such as strength of schedule (how tough their regular season opponents were), points score, win-loss ratio etc.
How does it all shake out?
Brackets. It'll be easier to show you than explain, but essentially the teams are divided into regional groups based on geographic location. They then play a one-game elimination game, win and you're through. All of the matchups are determined by the team's respective seeding, the #1 seed plays the #16 seed, the #2 seed plays the #15 and so on.
For reference, here's my actual bracket for this year.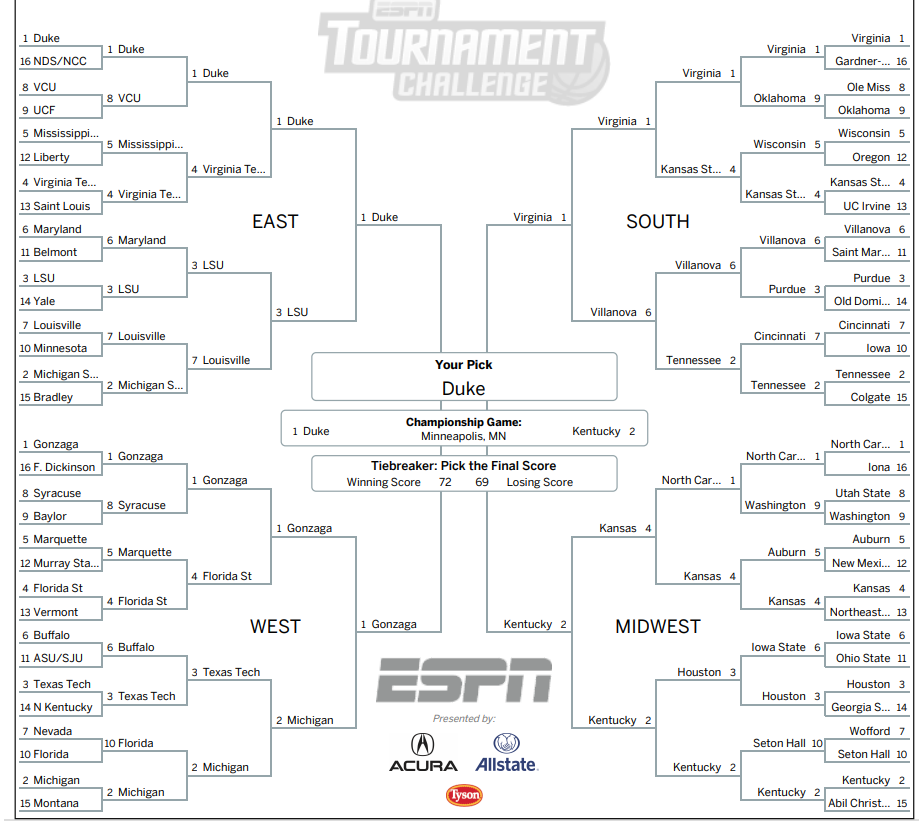 As you can see madness.
Who are the teams to watch?
You can imagine that in a tournament featuring 68 teams, not all the games are must watch. At least not in the early rounds. As you get further down towards the Elite Eight, it gets a bit more compelling.
There are, however, always teams worth watching and this year we have quite a few.
Just for the record, in our Sunday League Sports bracket contest Duke are my pick. I do have the next team on my list in an ND fan group, but I digress.
Duke have possibly the most stacked starting 5 in this tournament, headlined by future NBA superstar and soon to be very rich man Zion Williamson. Who incidentally is so baller he destroyed a shoe just by playing in it.
Lead by coach Mike Krzyzewski aka Coach K the Blue Devils have 3 top tier future NBA picks in their midst. Zion, Tre Jones and RJ Barrett. They're a hot contender for the championship.
Do love me some Gonzaga Bulldogs. The only team to beat Duke, when the entire Duke roster was healthy and on the court.
The Zags are a perennial NCAA contender, their coach Mark Few is the most successful active NCAA Division 1 basketball coach. They've been there, done it, and come back for more.
What makes this Gonzaga team special, and intriguing is point guard Josh Perkins. He's a 5th year senior who has crushed John Stockton's team assist record (554) with a mind-blowing 690. Perkins has been here before, he's the last remaining member of their 2017 title chase. Though it ultimately ended in a loss, Perkins has the experience and calibre to propel this team to a 'Natty'.
Sometimes it's just hard to trust a team. They let you down time and time and time again, then let you down some more. That's the life of a Virginia fan, high expectations, less than stellar results.
This year though might be different, the team is healthy for one. They're also top 5 in 3 point shooting nationwide and have an offense with enough octanes to give a Fast and Furious movie a run for its money. De'Andre Hunter is a legit star in the making, and while I don't think the Virginia Cavaliers win it all, they should be fun to watch.
I'll make this short and sweet. When it comes to March Madness the Wisconsin Badgers do the following:
Turn up.
Make you think, hmm could they.
Lose in the Elite 8.
This year however the Badgers go out in the Sweet 16, they're not good enough to beat Kanas State. Watch them go all the way to the finals just to spite me.
No March Madness is complete without a solid dose of Wildcats coach, John Calipari, and to be fair Kentucky don't look all that bad this year.
Primed for a seriously deep run at this year's tourney, when the team is firing on all cylinders, they look unstoppable. While the play from their guards has been disappointing, the forwards have really elevated this team.
Freshman small forward Keldon Johnson has great leadership qualities and has looked like a budding star. While power forward P.J Washington continues to look dominant, he was in a walking boot this week. However, that's said to only be a precaution. If Washington is at full health, he's a difference maker on the floor leading the team in points and rebounds per game.
Honourable Mentions
Kansas.
North Carolina.
Michigan State.
Louisville.
Who our "experts" picked.
Paul Halliwell – SLS Co-Founder and Notre Dame Apologist:
Duke.
Tom Livesey – 2 Feet Inbounds Podcast member and entrenched Dallas Mavericks Fan.
Gonzaga.
Tom Jackson – Just a guy we found to pad out the bracket contest.
Duke.
Simon Berry – 2 Feet Inbounds Podcast member and world-renowned article procrastinator.
Duke.
I hope this has provided a brief bit of insight into March Madness. If your interest is piqued you can catch the games from 16:15 21st of March. Keep your eyes peeled for more in-depth articles on each day's games.