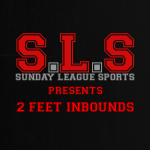 This delayed episode of 2 Feet Inbounds features a brief recap of Super Bowl LII, discussions about the goings on in the NFL. Including the Antonio Brown situation, the Browns signing Kareem Hunt, the AAF and the guys break down the Joe Flacco trade. Plus Simon has something for Vince McMahon.
Please bear with us as the Sunday League Sports podcasting studio continues to be plagued by some technical issues. Or possibly competency issues…
Featured image by our own Paul Halliwell. All rights reserved.