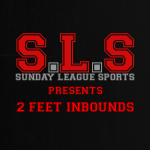 Say hello to 2 Feet Inbounds, our NFL podcast which in episode 1 will look at the upcoming Super Bowl LIII.
This is the very first in a long line of podcasts and other digital media that we have planned here at Sunday League Sports.
Due to some technical difficulties, this episode of 2 Feet Inbounds is recorded using only one microphone. However, rest assured we're on it, just as soon as I finish this beer….
This first episode recaps the NFL Conference Championship games. Discusses NFL officiating and previews the upcoming Super Bowl between the New England Patriots & LA Rams. More importantly, Paul and the guys discuss what's the best sports food, how to make it through the game when watching in the UK. Also Simon accepts a Super Bowl challenge.
We hope you enjoy listening, and hopefully, you'll come back for episode 2 the Super Bowl LIII Recap. Providing we're recovered from our hangovers by then.
Here's what we've got in the pipeline for our podcast series. Hopefully, we'll have something to cater to your listening desires very soon.
Red Alert – Manchester United fan talk with Paul and Adam
Half Court Shot – Basketball discussions with Paul and a selection of guest co-hosts.
Stay tuned for updates on these upcoming series, and more.
Featured Image by WEBN-TV. Displayed under Creative Commons.